Data points are just words, but when connected with a squiggly line they tell a story….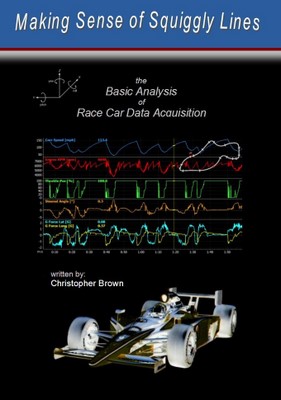 "Making Sense of Squiggly Lines" lays the foundation of knowledge required to analyze the data recorded on a race car.  Its simple approach is perfect for beginners, while the author's meticulous attention to the details and pitfals of data will improve even the experienced engineer.

This book is comprised of 144 pages with 166 figures and 15 tables.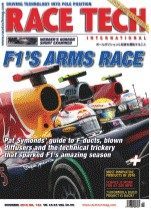 in Race Tech magazine!
See their December 2012 issue, or click above to read it on the speedreaders.info web site.
"Making Sense of Squiggly Lines"




Table of Contents



Chapter 1 Introduction

1.1 – Data Acquisition System

1.2 – Channels

1.3 – Logging

1.4 – Data Display Types

Chapter 2 Speed

2.1 – Speed from tire revolutions

2.2 – Speed from GPS

2.3 – Overlay

2.4 – Variance

2.5 – Data Alignment

2.6 – Braking

2.7 – Wheel Slip

2.8 – Cornering Speeds

2.9 – Straight Line Speed

Chapter 3 RPM

3.1 – Over Revs

3.2 – Down Shifts

3.3 – X-Y Plot of RPM vs. Speed

3.4 – RPM Histogram

Chapter 4 Gear

4.1 – Finding the Optimal Shift Points

Chapter 5 Throttle

5.1 – Throttle Blips

5.2 – Average Throttle Position

5.3 – Throttle Lifts

5.4 – Throttle Application Smoothness

5.5 – Throttle Application – Ideal Line

Chapter 6 G-Force

6.1 – G-Force Longitudinal – Acceleration

6.2 – G-Force Longitudinal – Braking

6.3 – G-Force Lateral

6.4 – G-G Traction Circle

Chapter 7 Steering

7.1 – Line Analysis

7.2 – Car Handling Oversteer/Understeer

Chapter 8 Track Mapping

Chapter 9 Section Timing

Chapter 10 Video

Chapter 11 Putting it All Together

11.1 – Summary of Channels

11.2 – Strategy for Improvement

Appendix A – Recommended Logging Rates
Appendix B – Glossary of Terms
Index
A very approachable tome that focuses on driver engineering through the intelligent use of data. Chris' explanations are wonderful and the premise of the book (as indicated by the title) is well executed. Probably the best single book for learning what to look at FIRST for the Club and Track Day driver. Highly recommended!
I've started through it, and I must say that this is the Buddy Fey replacement that we've been waiting for!
So far I'm about 60 pages into the book and loving it. The book is going to cost a lot more than I thought because it looks like I'm upgrading my data logging capabilities!
I have been involved with the San Francisco Region Driver School since the early 70's and for the past couple of years have been leading a group for advanced and experienced drivers. In the school last year I recommend the students get your book and read it regardless of whether they had a Data Acquisition system or not, it is a great book on competition driving, and should be read as much for the driver coaching as for the data acquisition. Thank you for a fabulous book!