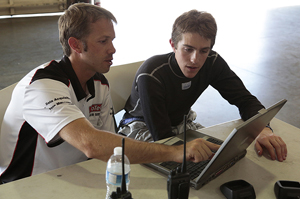 Training One-on-One
Ideal for small groups of 1 – 3 persons, One-on-One training may be done on-site, at a race track, or any conference room. Subject matter can be tailored to your needs and comprised of any of our existing classes such as:
Driver Coaching with Data & Video
Introduction to Motec, Cosworth or Bosch
Advanced Motec Dash Manager
Advanced Motec i2 Pro
CAN Programming
Typical Cost = $900/day + travel
---
Custom training materials can also be developed specifically to your needs. Contact us for more details.
Typcial Cost = $1200/day + travel
Send us a message to schedule your One-on-One training: